Common Questions – Liquid Floor Screed
Common Questions Around Liquid Screed – Presented by Easyflow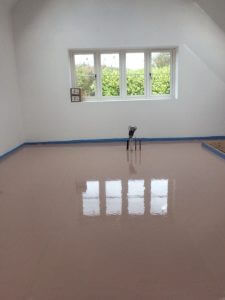 As liquid floor screed is becoming more and popular as a flooring material, there are many questions surrounding using liquid screed for flooring as well as for underfloor heating systems. If you are considering the construction of flooring for your home or commercial project then liquid floor screed is a highly versatile material. When used in conjunction with an underfloor heating system, you will also find that there is a huge range of benefits of using liquid screed due to the fact that this material makes your UFH system higher in thermal efficiency as heat is not trapped in air pockets.
Easyflow Ltd are market leaders in the Midlands and North West for liquid screed and underfloor heating systems and can assist you in the commissioning and installation of your liquid screed floor and underfloor heating system. In this article, we explore questions around liquid screed as well as answer the most common questions surrounding liquid screed. Should you be considering the installation of liquid screed for a commercial or domestic project or if you are looking for liquid floor screed with underfloor heating – enquire with Easyflow using an online contact form on our website or telephone our team now on: 01743 298001
Why Use Anhydrite Screed Over Cement-Based Screed?
Anhydrite screed has become a common option in favour over sand/cement screeds due to faster installation and drying times as well as the self-levelling and minimal shrinkage that anhydrite screed provides. Anhydrite liquid screed works perfectly with projects involving underfloor heating systems due to faster drying times, faster self-curing and the ability to pump the liquid screed. Liquid screed is also more environmentally friendly than sand cement screed, offers ergonomically friendly installation and there is no risk of cement burns to workers. In comparison to sand cement screed's 1.1W/mK thermal conductivity, liquid screed offers 2.2W/mK thermal conductivity.
How Long Can You Walk on Liquid Screed After it is Laid?
You can walk on liquid floor screed from 24 to 48 hours after the screed has been laid. This is ideally suited for projects in which there are multiple tradesmen carrying out different tasks during a project as well as during a project in general. This ensures that work is disrupted for a minimal amount of time, especially when compared to cement-based screeds.
What are the Other Properties of Liquid Screed?
Liquid screed offers greater compressive strength as well as greater flexural strength offering normal shrinkage and liquid screed will not curl. You can take into consideration the various requirements for your flooring such as the load-bearing requirements as well as the type of finish that you will be considering in conjunction with your liquid screed floor.
What Can You Use Liquid Screed For?
Liquid screed is ideally suited for almost any internal application in which an even and smooth floor surface is required. For domestic projects, liquid screed can be used for floors around many rooms in your property as well as for garage projects and outhouses. For commercial premises, shop floors, leisure centres and other areas which see extensive footfall you can also use liquid screed as your liquid floor screed can be completed with a variety of finishes.
As discussed you can also use liquid screed with underfloor heating systems. This means that you can heat domestic premises or multiple rooms in your property. Underfloor heating systems are perfectly suited to both commercial and domestic projects and the use of anhydrite liquid screed is highly recommended when installing an underfloor heating system.
Can I Use Liquid Screed for Higher Depths?
If you are dealing with depths in excess of 75mm or for garage floors then Easyflow is able to recommend the use of cement based liquid floor screed which can be pumped and laser levelled for a precise floor finish. Topflow Horizontal's finishing characteristics and high quality surface finish can eliminate the need to power float concrete on site dependent on project specification.
Does Preparation Need to be Carried Out for the Laying of Liquid Screed?
Yes, preparation needs to be carried out before liquid screed can be laid. Liquid screed should only be laid on a suitably well-prepared substrate. The screed can either be laid bonded or over a separating polythene layer (usually a 500 gauge.) Preparation is key to successful installation and if you require assistance, Easyflow can fit and supply the materials that are required to prepare your floor for liquid screed. Insulation such as acoustic and thermal insulation can be supplied and fitted if this is required. The foil backing on the insulation and the screed will need a barrier of polythene which also acts to tank the room as the screed is so fluid. Without using polythene then a reaction may occur that affects the structural integrity of the screed.
Arranging for Liquid Screed & Underfloor Heating Installation With Easyflow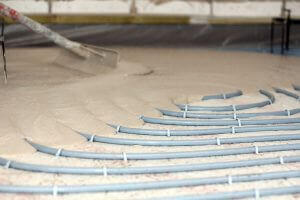 Our EasyFlow Screed is a floor screeding service in which we utilise our innovative and pumpable liquid screed. Fast, precise and efficient floor covering is standard with our liquid screed service and our liquid screed is perfect to use with your underfloor heating system or as a material for your flooring. We offer a variety of anhydrite screeds from major manufacturers as well as cement based liquid floor screed for projects that require higher depths and extra strength. We have offered liquid screed and underfloor heating for many years and can help you install your underfloor heating system, underfloor heating system with liquid floor screed or liquid screed floor without an underfloor heating system.
Liquid screed is the perfect solution for smooth even flooring and can be used in a wide range of domestic, commercial and industrial project specifications. Should you be interested in finding out more about liquid screed or how you can install a liquid screed floor with Easyflow then get in contact with our team today. Use an online contact form on our website or telephone our team of liquid screed experts now on: 01743 298001