How the Construction Industry Will Change in the Next 10 Years
Concrete is one of the most abundantly used materials in the world. Acting as the go-to material for construction, Concrete is used for everything. From residential projects to commercial, industrial as well as architectural. Due to the widespread use of concrete, it makes sense that that industry around it is a valuable one. In 2018, the concrete industry was valued at £1.9 billion in the UK, providing over 3.5 million jobs across the country. 
You wouldn't think about it normally, but the impact the concrete industry has within our society as we know it is huge. In the past decade or so, we've seen huge changes within the industry, so we're keen on seeing how the next ten years will affect the sector we place ourselves in, taking a look at new technology as well as the adoption of new methods of concrete laying. In this post, we'll cover a few topics that you may find interesting and that may be worth keeping an eye on as our sector develops over the next 10 years.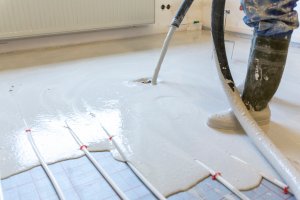 Developments in the construction industry: 
When we take a look at the field we work in, it's hard to pinpoint huge advancements in technology that have truly revolutionised the way we do things. As we work in a very process-based sector, it's often touted as impractical to change things up for the sake of it and to develop new processes. There is also the worry that any time given to improving existing methods of construction may end up in wasted time as we all know time isn't abundant in any site or project. In our opinion, this is a missed opportunity as we are missing key chances to make the services we use much more efficient given the time it takes to see what could be improved on. 
The exception to all of this is concrete pumping since it's been one of the most widely adopted services we've seen develop over the past decade or so. Compared to traditional methods of laying concrete, concrete pumping can save huge amounts of time and resources that would normally be taken up by more "orthodox" methods of concrete laying. 
Whether we've noticed it or not, we have all benefited from concrete pumping in one way or another. Advanced construction methods like concrete pumping and screed have helped to build some of the worlds most famous buildings. Since concrete pumps offer a huge range of benefits like accessibility, they make for a great tool for any medium to large scale construction project that would be unfeasible to carry out with any other method of laying concrete. There are a variety of situations where traditional methods would fail where concrete pumping would succeed. Any high rise building that is more than a few stories tall would be delayed by months without the implementation of professional concrete pumping. Using modern concrete pumps, laying concrete in restricted access areas has never been easier.
Advancements in construction methods:
We believe that with the huge push on the technology used within the construction industry, there will be huge advancements made within the next 10 years. From a future scattered with robotic aids to developments in the equipment used within the industry, there will be a huge technological presence in our opinion. 
How this affects our day to day is hard to gauge. Technology is always implemented as a way of making our jobs and our subsequent lives easier, but there is always a fine line between making a person's job easier and removing the need for the person altogether. Autonomy is a huge consideration for a lot of large companies and the notion of autonomising jobs can be a huge concern or those that are working in the industry. This brings us on to our next point which discusses who is primed to benefit from advanced construction methods. 
Who will benefit from advanced construction methods? 
From the owners of construction companies to architects, engineers and designers that are plotting the next greatest skyscraper, advanced construction methods like concrete pumping can be a huge benefit as it allows for designs and plans to be carried out much easier. The logistics behind large scale construction projects are of course a huge consideration and the easier it is to achieve them, the more ambitious people can be when it comes to designing buildings as well as completing them. 
Efficiency levels with your average construction worker will also improve since technology will aid those working on sites. Advanced construction methods will save man-hours giving a site manager the ability to re-attribute resources to places elsewhere on site where their time is more beneficial. 
The only concern is, as we've raised in our previous section the risk of autonomsing construction sites to the point where jobs are at risk. The economical risks are quantifiable aren't to be ignored, however, we believe there will be a fine line where construction companies will have to walk on between saving money autonomising jobs and keeping key workers that can carry out their jobs well. There will always be a need for human workers on construction sites, so it's up to construction firms to keep the balance of making processes more efficient whilst not cutting back too much.