Liquid Screed Birmingham
Liquid Screed in Birmingham Discussed by Easyflow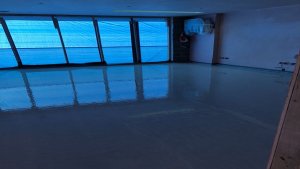 Are you are looking for a product that enhances the efficiency and effectiveness of your underfloor heating system? Are you having difficulties laying down the fantastic new floor finish that you want to install because you have an uneven floor? Look no further with as there are many innovative products available on the market today. EasyFlow Screed is a floor screeding service that utilises an innovative, pumpable liquid screed. This ensures that the floor covering is precise, efficient and fast
Easyflow has offered liquid screed in Birmingham for many years and can help you lay liquid screed in your property or commercial project. Whether this is for an underfloor heating system or to lay new flooring in your property or premises, we have a liquid screed product that will suit your project and requirements to the letter. In this article, we will discuss the various benefits of liquid screed as well as how you can use liquid screed for underfloor heating systems or for projects in your property or premises. Should you be looking for floor screed in Birmingham, enquire with Easyflow today using a contact form on our website or telephone our team now on: 0121 516 0138
Benefits of Liquid Screed
Liquid screed is fantastic for use with underfloor floor heating as the flowability of the screed ensures that the liquid screed wraps around the pipework of your UFH system perfectly and leaving no air gaps within the floor. This maximises conductivity throughout the floor which makes your underfloor heating system more efficient which will save you more on your energy bills in the long term. For screed to perfectly compliment your underfloor heating system, we highly recommend that an anhydrite liquid screed is the place to start. This is a great solution to installing your UFH system.
Compared to sand cement screed, EasyFlow Liquid Screed is highly beneficial. For example, liquid floor screed in comparison to sand cement screed is less labour intensive and it is much faster being over 10x faster than sand cement screed. The depth of the screed can be reduced significantly which therefore can increase the thermal efficiency of your property as you are able to install much thicker floor insulation. The reduced depth also means that the weight of the screed that is laid is reduced as well as the drying time of the screed. Our EasyFlow Liquid Screed can be walked on 24 hours after the screed has been laid which causes minimal disruption to other trades that may be working on your site. The other major advantage is that after the screed can be force dried as soon as 7 days after the application of screed. Minimising heat storage results in a floor which will rapidly respond to your requirements and this increases the efficiency of your underfloor heating system.
What Other Uses are there for Liquid Screed?
Apart from being ideal for underfloor heating systems, the other obvious benefit of liquid floor screed is for use in floor structures. Although flooring does not necessarily need to be covered with liquid screed, it is a highly popular flooring choice due to the fact that you can use liquid screed to level uneven floor structures. Especially useful for modern precast concrete as it's often difficult to lay floor finishes on this material, liquid floor screed is the perfect solution for making an even surface and for adding the desired floor finish that you want to add to your floor.
Anhydrite Screeds
Anhydrite flowing screed is a blend of a binder, special additives and selected aggregates which is then mixed with clean potable water. This produces a pumpable, self-smoothing flowing screed which can be used to either level your flooring or for use with your underfloor heating system. Anhydrite screed is designed to provide smooth surfaces for both commercial and domestic buildings before floor finishes are applied to the flooring. If you are concerned about time being a constraint within your project, we can offer you a range of fast-drying cement-based liquid floor screeds. These offer drying times from 10 to 21 days depending on the type of floor finish that you have chosen. If you are dealing with depths in excess of 75mm or if you are looking to screed the floor of a garage, then we are able to recommend the use of cement based liquid floor screed. This screed can be pumped and applied whilst also being laser levelled ensuring that a precise floor finish is achieved. Topflow Horizontal's finishing characteristics and high quality surface finish can eliminate the need to power float concrete on site dependent on project specification.
Preparing the Floor for Liquid Screed
Preparation is the key to the successful installation of floor screed and at Easyflow, we can supply and fit the materials that are needed to prepare your floor for liquid screed. Liquid screed should only be laid on a suitably well prepared substrate. This should either be laid bonded or over a designated separating polythene layer which is usually a 500 gauge. The separation layer can either be acoustic or thermal insulation and edge strips are recommended around the perimeters. Hard standing or pipes & joints will be placed where appropriate and screed height is established by using a laser level from a datum and from tripods that are situated across the floor. You can contact our expert team to arrange for a Floor Preparation quote and we are more than happy to provide you with a quotation for this service.
Moisture Testing for Floor Finishes
Before carrying out tiling on calcium sulphate screeds it's highly important to ensure that the moisture level stays at the correct level for the floor finish that is being added to the flooring. Typical values for these moisture sensitive floor finishes is less than 0.5% water by weight or you can also measure this by a relative humidity that is less than 75%. For a small fee, Easyflow can give an indication of the rate of drying of your floor but it's the responsibility of the flooring contractor that you are using to ascertain the moisture content before you proceed with your final floor finish. It's vital that you keep the moisture content at the correct level and we can offer you a quotation for Moisture Testing.
Enquire About Liquid Screed in Birmingham Today
Liquid screed is a fantastic way to install underfloor heating as well as installing level flooring on uneven surfaces. Whether you are looking to install your underfloor heating system or you are looking for a level floor surface then EasyFlow screed is the ideal product for you. Easyflow will work with you from the initial quotation to the installation of your liquid screed floor and we also offer a range of additional services to help during the installation and after the installation process. If you are looking to install liquid screed flooring in Birmingham or if you are looking for liquid screed in Birmingham, then ensure that you contact Easyflow today using an online contact form on our website. Alternatively, you can call a member of our expert team now on: 0121 516 0138