Liquid Screed
Liquid Screed – Benefits & Applications Discussed by Easyflow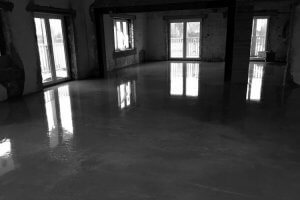 As underfloor heating systems become more and more popular in households and premises across the country, more and more people are using liquid screed in their underfloor heating system projects. As liquid screed is a material that is highly beneficial when used with an underfloor heating system, many contractors and underfloor heating specialists use this type of screed over more traditional types of screed.
Easyflow are one of the leading suppliers of underfloor heating and liquid screed, having many years of experience in this industry that exacts the highest of standards. Although there are a few sources of information on liquid screed as well as using liquid screed in underfloor heating systems, we have compiled information on the benefits of liquid screed, the uses of liquid screed in flooring for projects as well as the uses of liquid screed for underfloor heating. If you are looking for more information on liquid screed or underfloor heating then enquire with Easyflow using a contact form on our website today or telephone a member of our expert team now on: 01743 343000
Liquid Screed Over Other More Traditional Types of Screed
Historically, other forms of screed were used for underfloor heating systems. The main reason that screed is used in a variety of various projects with or without underfloor heating is to ensure that the floor can be levelled out. Although traditional sand screed cement used to used for underfloor heating systems, many now opt for liquid screed as the preferred material for underfloor heating systems. Liquid screed offers better thermal efficiency and heat distribution compared to more traditional screeds. Screeds are applied over the flooring service to ensure that a smooth level and flat surface which can have finishing materials applied to them. When used within your underfloor heating system, the UFH system will be laid under the screed which is poured over the top, surrounding the heating elements of the underfloor heating system.
Liquid screed is pumped and poured across the floor surface whereas more traditional forms of screed would be laid by shovelling the screed mix and levelling it with a screeding bar or polyurethane float. There are evident differences between the two materials which makes liquid screed a more reliable and effective choice for your underfloor heating system. But how does liquid screed directly benefit your underfloor heating system.
The Benefits of Liquid Screed With Underfloor Heating
Liquid screed allows for the fast dispensation of screed for your underfloor heating system, allowing for up to 1500m2 of screed to be laid per day. In terms of the project itself, liquid screed offers much faster drying times and minimal disruption to team members working on your underfloor heating project. This is due to the fact that you can walk on the liquid screed floor within 1 to 2 days and the liquid screed floor itself is self-curing. At 40mm, your liquid screed floor will dry at 40 days but after 7 days the liquid screed floor can be forced dried. The thermal efficiency of liquid screed is one of the main benefits of using liquid screed with an underfloor heating system. Liquid screed offers 2.2W/mK thermal conductivity (quantity of heat that is transferred through a set thickness over a set period of time.) You can also lay screed flooring that is thinner around the underfloor heating system for increased thermal efficiency. In comparison, sand screed cement offers a mere 1.1W/mK of thermal conductivity.
Using Liquid Screed for Your Underfloor Heating System
We would highly recommend using liquid screed over sand screed cement for your underfloor heating system. When looking to lay liquid screed for your underfloor heating, liquid screed is less labour intensive and over 10 times faster than sand cement screed. The screed depth can also be reduced significantly which allows you to install thicker floor insulation to increase the thermal efficiency of your UFH system. There are no bigger advantages of the product than when used with underfloor heating, a reduced depth of liquid floor screed, compared to traditional screeds, minimises heat storage resulting in a floor that responds rapidly to user requirement thus increasing the efficiency of your underfloor heating system. You can also use liquid screed for a wide range of different projects whether you are looking to install underfloor heating for a garage, for a room in your property or for a commercial premises. Liquid screed can also be used in renovation projects and is highly favoured in new-build developments especially with the addition of an underfloor heating system. When using liquid screed for your underfloor heating system, you should expect to be able to cover huge areas when the liquid screed is pumped during your project. When installing your underfloor heating system, there are essential steps required to prepare the area for the dispensation of liquid screed.
Liquid Screed Preparation
Firstly, ALL dust and debris must be removed from the floor surface. After this has been carried out then insulation needs to be placed ensuring ALL high/low points are removed from the sub-base. This is so that the boards are laid flat. Next, a polythene separating membrane is required with all liquid screeds. Ensure that this is laid without punctures and crease. Overlap joints, then seal the polythene with duck tape to avoid leakages. Then allow the polythene to continue up the walls to the full depth of the screed.
It's important to make sure the polythene fits tightly into the corners, securing with additional tape if this is required. After the polythene separating membrane has been laid then place a 5/10mm expansion foam around the perimeter in all rooms using tapes to secure it to the polythene. Now that the preparation process has been completed, the floor area is now ready to pour EasyFlow liquid floor screed. It's vital that the preparation process is carried out to the highest standards before the liquid floor screed is laid. Failure to do so will delay the installation of your liquid floor screed.
If you are using a clipped pipe underfloor heating system then all pipes need to be clipped securely, piercing the insulation. As the clips are self-sealing, they will not leak when EasyFlow liquid floor screed is poured. Water systems should be filled prior to the application of EasyFlow liquid floor screed. This is to reduce the risk of the pipes floating when screed is poured on to the underfloor heating system. If you are using a tray system then plumbers merchants usually will supply a polystyrene-backed cardboard expansion strip with the trays. It is recommended that the polythene separating membrane is still used with this method to provide a proper tanking of the area.
Enquire With Easyflow Today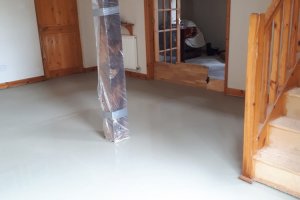 If you have any further questions about the applications of liquid floor screed with underfloor heating systems or you yourself are looking to install an underfloor heating system with liquid floor screed then enquire with Easyflow today. We can advise you on the various installation options and underfloor heating systems that are available as well as advise you on the preparation and installation of your underfloor heating system. If you are looking for liquid screed or liquid floor screed then enquire with Easyflow using a contact form on our website or telephone now on:01743 343000