Floor Screeding Manchester
Floor Screeding in Manchester Discussed by Easyflow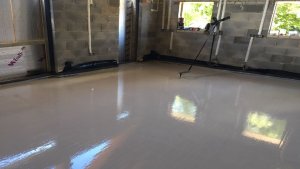 Floor screeding is a fantastic flooring solution for both domestic and commercial projects. Whether you are looking to install underfloor heating along with an innovative flooring solution or if you want to install level flooring, Easyflow has the screeding solution to suit your project. We are underfloor heating and liquid floor screed specialists and can provide you with an innovative and quality flooring solution for your projects. This solution is ideal for flooring or for underfloor heating.
As liquid screed provides a fast,efficient and precise floor covering, it's the perfect for a variety of different projects including screeding for your working premises as well as your property or garage floor. In this article, we will discuss the benefits of using liquid screed for your projects as well as using liquid screed and floor screeding for your underfloor heating system. If you are looking for floor screeding in Manchester or liquid screed in Manchester then enquire with Easyflow today using an online contact form on our website or telephone us now on: 0161 241 6898
Floor Screeding for Domestic Projects
Floor screeding is ideally suited for a range of domestic projects. If you are looking to install an underfloor heating system in your property, then anhydrite screed is an ideal screeding option. Compared to sand cement screed, EasyFlow liquid screed is designed to provide a smooth level surface that is ready for the application of final floor finishes. There's a range of benefits when looking at liquid floor screed in comparison to sand cement screed as EasyFlow Liquid Screed is less labour intensive and over 10x faster than sand cement screed. With faster laying times and less labour intensive installation, EasyFlow liquid screed is perfectly suited to your domestic project. As the EasyFlow liquid screed can be walked on 24 hours after its application, other tradesmen can carry on with the work that they are carrying out on site.
Commercial Floor Screeding
Liquid floor screed is also ideally suited for a wide array of commercial projects. As you are able to use liquid floor screed to level uneven surfaces, liquid floor screed is perfect for creating designated flooring areas. You are also able to add a variety of finishes to your liquid floor screed after it has been laid which can be tailored towards your commercial premises. The speed in which you can lay floor screed, as well as the drying times and ability to accelerate drying times, means that liquid floor screed is highly versatile and effective for commercial projects. As mentioned, our EasyFlow liquid screed is able to be walked on after 24 hours which again aids in the speed and efficiency of completing other tasks that may be going on during your commercial construction project. Having carried out a wide variety of different commercial projects, Easyflow are fully equipped to help you install liquid floor screed in your commercial premises. Enquire today to find out more about how we can help you in your commercial project.
Liquid Floor Screed in Relation to Underfloor Heating
Liquid floor screed is ideally suited for the increased insulation of underfloor heating systems for a number of different reasons. Anhydrite liquid floor screed perfectly compliments underfloor heating systems with various options available which give extra strength for shallower applications for guaranteed improved thermal performance. Thermal efficiency has become more and more important for properties and projects alike and this has seen the natural increase in popularity of underfloor heating systems. It's natural that you want the perfect flooring for your underfloor heating system and this is why we highly recommend anhydrite liquid floor screed for use along with your underfloor heating system. High quality screed helps retain heat emitted from the system for longer without producing hot or cold spots within the floor which is being heated by your UFH system.
The shallow applications of anhydrite screed ensure that screeding can be carried out over larger areas, the overall weight of the floor is reduced and there are no pockets of air in-between the underfloor heating system and the screed floor. This is vital in ensuring that your underfloor heating is as efficient as possible. Having an underfloor heating system that is highly efficient can see your energy bills decrease providing you with a return on your investment over a number of years.
Floor Screeding With Easyflow
Easyflow provides a fantastic flooring solution for whichever project you are undertaking that requires liquid floor screed or underfloor heating. Our liquid floor screed provides an effective, quick and precise floor covering which holds numerous advantages in comparison to traditional screeding solutions. When working with you on your project, we will be able to take into account your specific requirements and work with you to complete your project to your exact requirements and specifications. Should your biggest concern be time constraints whilst completing your project then we can offer a range of fast-drying cement-based liquid floor screeds which dry from 10 to 21 days depending on the type of floor finish that you decide to use.
We are also able to command cement based liquid floor screed for larger depths. With depths in excess of 75mm or for areas such as garage floors we can pump this cement based liquid floor screed applying this and laser levelling to ensure that you have a precise floor finish. Topflow Horizontal's finishing characterises as well as the high quality surface finish that is offered by Topflow Horizontal can even eliminate the need to power float concrete on site. This is dependent on the project specification as well as on your specific requirements during your project.
Gyvlon® Screed are experts in free flowing, anhydrite (calcium sulphate) screeds. The properties of Anhydrite as well as the performance gives their screeds unique advantages especially when compared to cement screeds. Gyvlon has over 25 years of experience in the formulation of self leaving screeds and this brings a wide range of innovative products with a wide range of applications.
Enquire With Easyflow for Floor Screeding in Manchester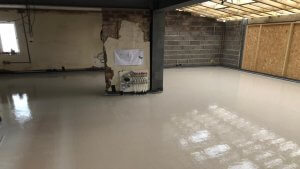 Floor screeding can be utilised across a huge range of projects, providing you with fantastic and level flooring. Whether you are looking to install screed flooring in your property, business premises or other types of premises, Easyflow has the liquid floor screed solution to suit you. Should you be considering purchasing and installing underfloor heating, liquid floor screed is the perfect solution to accompany your underfloor heating system. Perfectly complimenting the underfloor heating system as well as offering increased energy efficiency, it's highly recommended to install liquid floor screed along with your underfloor heating system. Easyflow will work closely with you from the beginning of your quotation to the installation of your floor screeding. Should you be interested in finding out more information on liquid floor screed and how this can be used during your next project then do not hesitate to contact us. Should you be looking for floor screeding in Manchester or want to find out more about liquid screed solutions in Manchester then ensure that you enquire with Easyflow using an online contact form on our website or telephone our team directly now on: 0161 241 6898