Flooring & Heating – Home Improvement
Home Improvement Projects – Flooring & Heating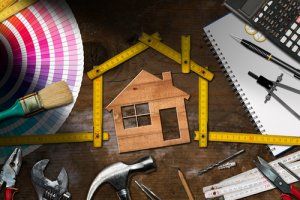 When looking to carry out a home improvement project, one of the key areas which you may be looking to renovate or upgrade is your floors and heating systems. As a home improvement project is likely going to be a vast project, it's important that all of the design aspects fit you to the letter to meet your requirements. As a home improvement project is a significant investment, it's important that you are able to execute your dream design.
With the large variety of flooring solutions and heating solutions that are available, you may have considered a wide variety of options. With the options that are available, especially compared to more conventional products and materials – this has completely transformed the home renovation sector. 
Should you be looking to carry out a home improvement project then you may have some questions about the flooring and heating options that are available. This article will go into more detail about considering liquid screed flooring for your home improvement project, discuss the benefits of modern flooring solutions as well as discuss how you can enjoy the benefits of underfloor heating in your home. For more information, please contact our team of expert professionals using an online contact form on our website or telephone our team now on: 01743 298001
What Modern Flooring Solutions are Available?
Historically, concrete would have been likely considered as a flooring material or other traditional materials. However, with extensive innovations in screed methodology and processes, liquid floor screed has fast become the preferred material for flooring solutions. The benefits of utilising liquid screed are listed below:
Installation of liquid floor screed is less labour intensive and over 10 times faster than sand cement screed.

Screed depth can be reduced significantly, meaning you can increase the thermal efficiency of your property by installing thicker floor insulation.

A reduced depth of floor screed means reduced weight and drying times.

EasyFlow Liquid Screed can be walked on 24 hours after application, meaning minimal disturbance to other trades on site.

EasyFlow Liquid Screed can be force dried – as early as 7 days after application.
Liquid floor screed is becoming more and more popular mainly due to the fact that minimal disruption is caused when the screed flooring is laid. As you can walk on the liquid screed floor 24 hours after application – this reduces disruption for tradesmen that are working on site.
Replacing Your Floors
Should you be considering an extensive home improvement project then replacing your current flooring may be one of your top priorities. If you have uneven flooring or you want to apply a different finish compared to your current floor areas then liquid floor screed is again the ideal product to consider for your home improvement project.
You are also able to replace flooring in other areas as well as rooms in your house such as the flooring of a garage for example. This is a great way to ensure that you can install the type of floor that you require in other areas of your property with another advantage of liquid floor screed being that you are not just restricted to being able to upgrade the flooring in your property.
Replacing your flooring is a great way to prepare for carrying out improvements to other areas of your property. You may be restricted in the improvements that you want to carry out with the current flooring in a room for example. Evening out flooring with a liquid screed floor is a great way to improve the flooring of your property and allow for other projects to take place.
Is Underfloor Heating a Great Investment?
Underfloor heating is a great investment and an innovative heating solution if you are looking to rehaul your heating system. As your property is a continuous investment, it's highly important 
for many homeowners to choose investments that improve quality of life as well as increasing the overall value of their property. 
Underfloor heating is a luxurious addition to your home which ensures that you can heat your room evenly as well as efficiently. Wet underfloor heating systems are ideally suited for a huge range of different properties and therefore, you can easily enjoy the benefits of this fantastic, innovative heating system.
Your underfloor heating system isn't just a fantastic investment for your property, it also brings comfort and warmth to your home. When making the switch from a traditional heating system, you will also find added benefits such as increasing the amount of space available in your property and the reduction of issues such as dust allergies. 
Making the Switch from a Traditional Heating System
One of the more traditional heating systems and a system that has been installed as standard for decades is the radiator central heating system. Although these are often installed, other systems are starting to become more popular in new build properties, such as underfloor heating systems. This is due to the fact that they can be easily installed during the construction process and give you more space in rooms around your home. You gain more space when installing an underfloor heating system as you remove the need for radiators to be physically installed which allows you to be more ambitious with the layouts and designs of rooms in your property.
The other added benefit is that your underfloor heating system will heat the room much more effectively and efficiently compared to more traditional heating systems. This due to the fact that your underfloor heating system will heat the room evenly whereas you will find that there are draughts and pockets of air in a room that is being heated by radiators which hinders equal heat distribution. Your wet underfloor heating system is also highly energy efficient which is ideally suited for those who are conscious about their personal environmental impact.
Integrating Flooring & Underfloor Heating With Other Home Improvement Methods
There are other aspects of your property that you can look to improve whilst installing new flooring or deciding to install an underfloor heating system. Whilst installing an underfloor heating system in your bathroom for example, you can go ahead and redesign your entire bathroom area. Combine any room renovation with underfloor heating or new liquid screed flooring and you can create wonderful rooms that you can enjoy all year round and that can increase the value of your property. The fact that you can walk over the floor up to 24-48 hours after it has been laid is perfectly suited for tradesmen that are also working on renovations on a certain room. This ensures that there is minimal disruption to other work being carried out as the installation of the liquid screed floor can be planned so that it does not hinder other renovation activities. 
Start Your Home Improvement Journey Today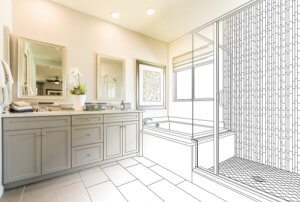 Starting your home improvement journey is easy with Easyflow. We are one of the leading liquid floor screed and underfloor heating companies in the Midlands and can help you install your brand new underfloor heating system and liquid screed flooring. Whether you are looking to renovate your property or you want to change your heating system then we can help you! For more information, please contact our team of expert professionals using an online contact form on our website or telephone our team now on: 01743 298001