Underfloor Heating Birmingham
Underfloor Heating in Birmingham Discussed by Easyflow
It's no surprise that underfloor heating is becoming a more and more popular heating system for many households. A viable and cost-effective heating solution, underfloor heating is a great alternative to traditional radiator based central heating systems. Easyflow are underfloor heating and liquid floor screed specialists and has offered underfloor heating in Birmingham for many years. We are committed to providing you with an innovative, quality underfloor heating and flooring solution. In this article, we will discuss the features of an underfloor heating system as well as the benefits of installing an underfloor heating system. Should you be looking to install underfloor heating in Birmingham or an underfloor heating system in Birmingham then enquire with Easyflow today or telephone our team directly now on: 0121 516 0138
The Principles of an Underfloor Heating System
Your underfloor heating system composes of a series of pipes integrated within the floor which circulates warm water from any heat source. This emits natural radiated heat that serves to provide a more comfortable and even temperature throughout the room. Pipes are connected to a centrally located manifold and individual rooms can be temperature controlled as required via their own thermostat. In comparison to traditional radiator systems, a water-based underfloor heating system is much more energy efficient and uses less energy to heat the room, resulting in you saving money on energy bills. This is because it runs at much lower temperatures compared to other more traditional heating systems and is a more sustainable option. With the increase in importance of sustainable house systems, a water-based underfloor heating system is the perfect system to use to heat your home.
EasyStandard Underfloor Heating System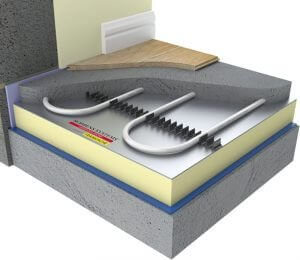 EasyStandard floors are one of the most popular of the floor constructions that we supply underfloor heating systems for. The EasyStandard system is the best choice for new screed floors offering the lowest running costs as the highest output underfloor heating system. This quick to install system can be used with traditional liquid screed and utilises Frankische pipe covered with a 100-year warranty. This system operates with pipes that carry warm water through your flooring while they are encased in screed or concrete.
The EasyStandard underfloor heating system is designed to be utilised with a solid floor is going to be installed in the property. This typically is used with normal screed or concrete but modern liquid screeds can speed up the installation process and increase the thermal output of the underfloor heating system. The EasyStandard heating system is compatible with low-temperature heat sources (air or ground source heat pumps for example) which is one of the major benefits of this heating system. With the many different screeds available including anhydrite liquid screeds along with traditional and mixed screeds, screeds consisting of 4:1 sand and cement should be between 65mm and 75mm thick. Modern liquid screeds can be laid much thinner allowing a minimum of 55mm.
Easy Joist Underfloor Heating System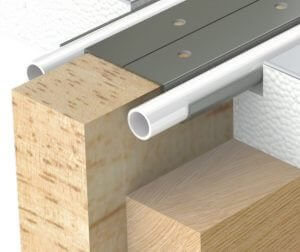 There's a variety of installation scenarios in which you can use the Easy Joist system. Most commonly used on the first floor of new or older buildings and are likely to be used on older buildings where renovation work is being carried out. Due to the fact that the system is very lightweight, it is suitable for most joist types. With no thermal mass, these systems rely on heat spreader plates which are used to distribute the heat. This results in an underfloor heating system that heats up very quickly even from cold. This system is also fast to install due to the fact that the clips are nailed or screed to the joist edges and the fact that this system is so lightweight means that there is very little weight adde to the current floor. There is also no increase in the final floor's height whilst also being suitable for low tog carpets. This system also uses Frankische pipe with a 100-year warranty. With no significant raising of the floor level, Easy Joist floors are perfect for projects that have existing joists with limited build-up heights. The pipe clip is 0.6mm in thickness with the heat spreader plate being 0.5mm thick.
Easy Panel System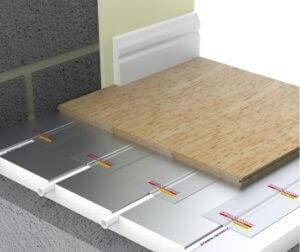 Being ideal for property refurbishment, the Easy Panel system is perfect for projects in which underfloor heating is needed but there is limited build up height available. This could be appropriate for older renovations and new builds. The Easy Panel system is available either in an unfoiled or foiled version to be used with aluminium heat spreader plates which are pre-grooved to accept a 16mm pipe which pushes into the grooves during the installation process. After the installation of the pipe, a structural floor is required to be installed over the top which can include real or engineered timber, screed replacement boards and a grove chipboard. Boards vary in build up height between 25mm and 80mm thick. When carrying out your project, building regulations will be able to advise you on the insulation thickness that you will need for your project. After the installation of the Easy Panel system is complete then a suitable floor covering needs to be installed over the top of the underfloor heating system which is usually around 18mm to 22mm.
Underfloor Heating Control Systems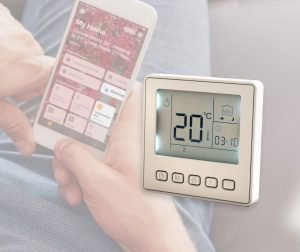 With the rise of the 'Smart Home' systems in which you can control appliances and systems in your home are becoming more and more popular. As a traditional central heating system utilises a thermostat to control temperatures in your home, you can also enjoy using a heating control system to have complete control of your heating system. The Heatmiser neoStat is 230v powered and is an ideal upgrade path for those that already use an existing mains powered thermostat. This control system operates in Timer or Heating Mode which can also be operated using remote sensors. The Heatmiser neoAir is ideal for those who are looking for a control system for their heating and hot water which is completely wire free (controllable by an App.) The Heatmiser neoHub Gen 2 – Neo System Internet Gateway with HomeKit Support handles the network communication between the neoStat, neoAir and neoPlug and this is the 'brain' of the Neo System. If you want to control your hot water and heating from your Smartphone then you will require this system.
Enquire About Underfloor Heating in Birmingham Today
If you feel that you will benefit from installing underfloor heating in your property then why not go ahead and enquire with Easyflow today? Our complete package for underfloor heating and screed allows for us to support you in your underfloor heating installation from the first enquiry all the way up until your system is commissioned. This includes a bespoke design and we can offer a 2-year workmanship guarantee. This covers you in the rare chance that defects occur due to our installation process and this covers all call out charges and labour costs that are required to rectify any defects. Should you be considering underfloor heating solutions in Birmingham or underfloor heating in Birmingham then enquire directly with Easyflow today or telephone our team of experts directly now on: 0121 516 0138