Underfloor Heating Manchester
Underfloor Heating in Manchester Discussed by Easyflow
Underfloor heating is a heating solution that can completely change the way that you heat your home. Offering a more energy efficient and greener solution to traditional wall mounted radiators, a UFH system is the perfect choice if you are looking for an effective heating solution. Offering reduced energy bills, your heating system can see a return on your investment over extended periods of time.
Easyflow has offered underfloor heating solutions for many years and are market leaders in Manchester and the surrounding areas. In this article, we will discuss the benefits of an underfloor heating system as well as which underfloor heating systems are appropriate for your project and property. If you are looking for more information on underfloor heating in Manchester or if you are looking to install an underfloor heating system in Manchester then enquire with Easyflow today online using a contact form on our website or telephone directly now on: 0161 241 6898
Benefits of an Underfloor Heating System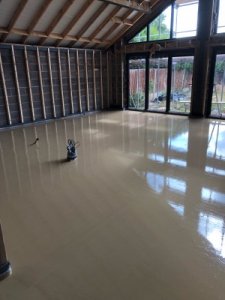 With the heating in the floor, the floor itself becomes the heat emitter. Compared to radiators in a traditional central heating system, this allows for more even heat distribution. A normal central heating system uses heat emitters on the wall which heats the room from the ceiling downwards (which tends to be less energy efficient.) Your underfloor heating system is hidden away in the floor which means that you do not need to have radiators installed in rooms around your house. Radiators can also be bulky and block furniture in rooms whereas your underfloor heating system does not require these radiators.
Your underfloor heating system heats a larger surface area than traditional heating systems with radiators also having to work harder to heat an entire room. The UFH system also works at lower temperatures, working well with rooms such as your bathroom area. It's not a surprise that there is a growing demand for underfloor heating solutions as these systems are better for the environment and can save you money on your energy bills.
Which Projects are Appropriate for Underfloor Heating?
Some properties may seem unsuitable for underfloor heating, however there are various systems to suit every project and in conjunction with other enhancements you can improve the efficiency of your underfloor heating. In older properties it is advisable to add some insulation to minimise heat loss. If insulation levels can't be increased then it is possible generate more heat by using closer pipe spacing to compensate for any heat losses through reduced insulation. Easyflow provides a number of systems that are suitable for various set ups.
Underfloor Heating for Your Property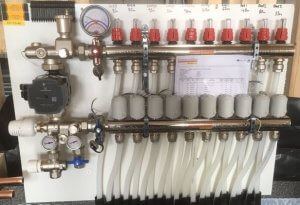 A new build property is ideally suited for underfloor heating as you are able to execute your desired design and install an underfloor heating system that is more energy efficient than other more traditional heating systems. All of our underfloor heating systems are appropriate for new build properties with our EasyStandard floors being probably the most popular of the floor constructions that we supply. The EasyStandard system is designed for projects where a solid floor is to be installed and this is traditionally used with a normal screed or concrete floor. You can use this system with modern liquid screeds also. The Easy Joist system tends to be used on first floors and can be used in new buildings. This is a highly lightweight system and heat up very quickly, even from when the system is cold.  The Easy Panel system can be utilised in any project where there is limited space available and is ideally suited for new builds.
For older more traditional buildings, underfloor heating can still be used effectively to provide you with an energy efficient heating system. One of the most common uses of the Easy Joist system, for example, is for use in older buildings (when carrying out renovation work.) This is also seen with the Easy Panel system as this system is ideal for projects where there is limited build-up heights available for your underfloor heating system. Older structures may be less energy efficient than new build properties so property owners are more than likely looking for the most energy efficient heating systems possible.
UFH Control Systems
There are various control systems available to control and monitor your underfloor heating system. The Heatmiser neoStat (230v powered) is ideal for those that already have an existing mains powered thermostat in their property. This can be operated in Timer Mode or Heating Mode and can also be used with remote sensors. The Heatmiser neoAir allows for a wire-free App controllable solution of your heating & hot water. Both the UH8-RF and RF Switch receivers are compatible with the neoAir. The Heatmiser neoHub Gen 2 handles all of the communication between the neoStat, neoAir and neoPlug being the brain of the Neo system.
If you want to be able to control your heating and hot water systems from your Smartphone then you will need to install the Heatmiser neoHub Gen 2. Being able to control your underfloor heating system is becoming more and more important for homeowners, especially those that have already opted for technology that has transformed their property into a 'Smart Home.' When helping you install your underfloor heating system, we can also help you to install one of the underfloor heating control systems that we have to offer.
Commissioning an Underfloor Heating System
Commissioning your underfloor heating system is simple with Easyflow. We will work closely with you from the beginning of your project to the commissioning of your brand new underfloor heating system. When you are deciding on the design aspects of your projects, we can also help you with the design and commissioning of your underfloor heating project.
Although it is possible to fit an underfloor heating system personally, it's more than always recommended for professional installation of your underfloor heating system, rather than trying to install your underfloor heating system yourself. This is due to the fact that if any issues occur with your underfloor heating system – you won't want to be digging it up to find and resolve the issue. Wet underfloor heating systems require little to no maintenance when installed correctly so it's very important that the installation process is followed fully.
Preparations for UFH Installation
There is a distinct preparation process before the installation process takes place. If you do have any questions regarding the installation process then you can contact our team directly to discuss this process. Another benefit of choosing Easyflow as the commissioner of your underfloor heating system is that we will work closely with you during the installation process as well as after your underfloor heating system has been installed by our team of underfloor heating specialists.
Step 1
Remove ALL of the debris and dust from the floor surface to prepare for the installation of your underfloor heating system.
Step 2
Place insulation making sure that ALL high/low points are removed from the sub-base so that the boards are laid flat.
Step 3
All liquid screeds will require a polythene separating membrane. Lay the membrane ensuring it's free from creases and punctures. Overlap the joints, then seal with duck tape. This is to avoid leakages in the underfloor heating system. Allow the membrane to continue up the walls to the full depth of the screed and make sure it fits tightly into the corners. If additional tape is required, ensure that the polythene membrane is secured into the corners with the additional tape.
Step 4
Place a 5/10mm expansion foam around the perimeter in all rooms using tape to secure this to the polythene. Now the floor is ready for EasyFlow liquid floor screed to be poured.
For UFH With Clipped Pipes
If you are using a tray system skip this step. All of the pipes will need to be clipped securely and piercing the insulation. As the clips are self-sealing, they will not leak when the EasyFlow liquid floor screed is poured. IMPORTANT INFORMATION – water systems should be filled before the liquid floor screed is laid. This is to reduce the risk of pipe flotation when the screed is poured.
For UFH With a Tray System
Plumbers merchants usually supply a polystyrene-backed cardboard expansion strip with the trays for the underfloor heating system. It's still recommended to use the polythene separating membrane to provide proper tanking of the area.
Installing Your Underfloor Heating in Manchester With Easyflow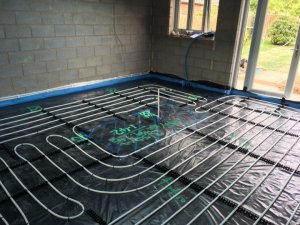 Being underfloor heating and liquid floor screed specialists, Easyflow can help you install the underfloor heating solution that suits you to the letter. With many years of experience offering underfloor heating to our clients in Manchester and the surrounding areas, we can work closely with you to design and install your bespoke underfloor heating system. Whether you are installing your underfloor heating system in a new build property or an older property, we have an underfloor heating and flooring system that will cater to your requirements. Liquid floor screed provides efficient, fast and precise floor covering offering many advantages over more traditional screed solutions. Our underfloor heating systems will provide you with rooms that are much more comfortable and with a much more even temperature.
We will work closely with you from your initial enquiry all the way through to your underfloor heating system being commissioned and we provide a bespoke design for your project. If there is the rare event that there is a defect as a result of our installation process, we will cover all call out charges and labour costs offered with our 2-year workmanship guarantee. If you are interested in finding more about underfloor heating systems or want to find out more about the benefits of underfloor heating systems then enquire with Easyflow today. To arrange for an underfloor heating installation in Manchester, enquire online using a contact form on our website or telephone directly now on: 0161 241 6898