Underfloor Heating Wolverhampton
Installing Underfloor Heating in Wolverhampton With Easyflow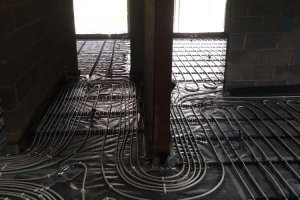 Being a fantastic alternative to other heating systems, underfloor heating is becoming a highly popular method of heating commercial premises, industrial premises and households. A highly viable option for new build properties or if you are looking to carry out renovations, an underfloor heating system is an innovative solution. These systems can be used to provide a cozy warm floor or can even be used as a replacement to conventional heating methods such as radiators.
At Easyflow, we are one of the leading market leaders providing underfloor heating in Wolverhampton. Whether you are looking for an underfloor heating system for your property or for a commercial or industrial project, we can work with you to install your underfloor heating system and lay liquid floor screed to compliment your UFH system. In this article, we will discuss the reasons as to why you may want to consider installing an underfloor heating system as well as how you can install an underfloor heating system. If you are looking for underfloor heating in Wolverhampton or an underfloor heating system in Wolverhampton then enquire with Easyflow using an online contact form on our website or telephone now on: 01902925609
Why Choose Underfloor Heating?
One of the main benefits of choosing to install an underfloor heating system is the even heat distribution. Compared to traditional methods of heating a room, an underfloor heating system is higher in thermal efficiency. This is because of the fact that a radiator heats a room from top to bottom whereas your UFH system allows for even heat distribution. Often associated with luxurious   buildings and 5 star hotels, it is easily possible for you to install one of these systems in your property. If you are finding that you want to redesign a room or rooms in your property and are being blocked by radiators then you can use an underfloor heating system to save space. This is particularly effective for open rooms in which you want creative freedom.
Using liquid floor screed with your underfloor heating system allows you to greatly increase the thermal efficiency of the UFH system. Should the flooring in the room in which you want to install your underfloor heating system be uneven then you can also use liquid floor screed to create a level floor. You are also able to install a number of finishes onto the liquid floor screed after installation and drying is complete. This is ideally suited for areas such as bathroom floors where cold stone and tile floors are usually featured. Another great benefit of underfloor heating is that it can be fitted in almost every type of home and almost any type of flooring, allowing you to enjoy your underfloor heating system whenever you need it.
Should You Choose Hydronic Underfloor Heating or Electric Underfloor Heating?
When choosing your underfloor heating system, you may have heard of hydronic underfloor heating and electric underfloor heating. A hydronic underfloor heating system operates by heating water around the heating system whereas an electric underfloor heating system uses electricity to heat the underfloor heating system. An electric underfloor heating system tends to use a large amount of electricity which leads to more expensive energy bills. It is difficult to install electric underfloor heating in big spaces or your entire property and these systems are designed primarily for comfort and not for the role of replacing a current central heating system.
Hydronic underfloor heating systems offer a constant heat for extended periods of time and once the floor has reached the desired temperature, there is minimal energy required to maintain the heat of the floor. The energy costs are significantly less than electric underfloor heating systems which can lead to a return on your investment. As your hydronic underfloor heating system will offer a big heated mass for gentle, pleasant warmth – you will be able to enjoy the heating of your underfloor heating system whenever you need it.
Which Projects Can Benefit From Underfloor Heating
As the popularity of underfloor heating systems increases, many often ask where underfloor heating is appropriate. There are a huge amount of applications for underfloor heating across an expansive range of design and installation projects. New build properties often opt for underfloor heating systems to be installed as the system can be installed whilst construction is taking place and a liquid floor screed can be laid to ensure that the floor stays level. The fast drying times and the fact that you can walk on the liquid floor screed within 24 to 48 hours means that this is often the preferred method of installation in new build properties. Although a highly popular option for new build homes, this shouldn't put you off installing an underfloor heating system in an older property. If you are considering renovating your current property then you can install an underfloor heating system along with liquid floor screed to renovate or change the way that a room or rooms in your property operates.
For commercial or even industrial projects, you can also utilise underfloor heating for a range of applications. Expansive flooring areas that require heating systems may not heat well or efficiently with a traditional heating system. Underfloor heating provides comprehensive heating around the area and is much more effective than a traditional central heating system. Using liquid floor screed for a commercial or industrial project also ensures that there is minimal disruption to other tradesmen that may be on site when the liquid floor screed is laid. Typically, it takes 40 days at 40mm for liquid screed to dry but the screed can be force dried after 7 days. You can walk on the floor within 1 to 2 days and the screed is self-curing. Liquid floor screed offers greater compressive and flexural strength than sand cement screed and liquid floor screed will not curl. This ensures that a high quality flooring is installed and that there is minimal disruption to a commercial or industrial project when your new underfloor heating system is installed.
Install Your New Underfloor Heating System in Wolverhampton With Easyflow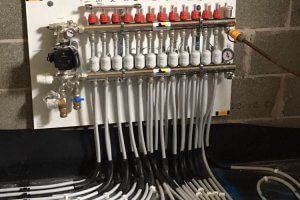 Should you be thinking that you will benefit from an underfloor heating system or want to enjoy luxurious heating in your property then you should definitely consider installing one of these innovative systems. Easyflow offers underfloor heating as well as liquid floor screed to compliment your underfloor heating system. You can use your underfloor heating system for a variety of different applications and this results in a heating system that offers comprehensive and efficient heating. We have helped many clients in Wolverhampton and the surrounding areas install underfloor heating systems as well as provide liquid floor screed to compliment your underfloor heating system. Whether you are looking to install underfloor heating in your property or if you are looking to install an underfloor heating system for a commercial or domestic project, we can provide you with the means to prepare and install your brand new underfloor heating system. If you are looking for underfloor heating in Wolverhampton or want to install a UFH system in Wolverhampton then enquire with Easyflow using an online contact form on our website or telephone our team of experts now on: 01902925609